*Disclosure- I received the mentioned products courtesy of the sponsor for the purpose of this review. All opinions are genuine, based on my experience with the product, and have not been influenced by promotional items.
5 more sleeps until Christmas! I can't believe we're less than a week away from the big day. Do you know what I love most about the holiday? After feeling rushed all month long, we can just sit back and relax and spend the entire day as a family. After the gifts have been opened and dinner has been served, we gather around the table and bust out our favorite card and board games, then spend the rest of the evening broiled in a little friendly gaming competition.
We bust out the cookies, pour some sparkling cider, then get our game on.

It's a tradition that I look forward to every year.
Some of my favorite games are the long standing classics: UNO, Sorry, Apples to Apples and Life, just to name a few. I like the kind of games that the whole family can play together because that's what the holidays are about for me. Being together as a family. We did our annual waffle breakfast for the extended family last Sunday, and after our bellies were full, we pulled out the games and had a hooting good time together.
We have a few preschoolers in my family, and it made my heart happy to see the tweens and teens giggling with them over a few games of Hungry Hungry Hippos, and teaching them counting skills and colors with Candy Land.
Family time is such a precious time, especially during the holidays, and our friends over at CATHOLIC CENTRAL have pieced together a wonderful "Christmas Fun in 5" downloadable PDF that is packed with super-fun 5 minute activities that you can do with your family and friends this holiday season to laugh, bond and have a blast! It also includes some cool facts about the "whys" and history behind some of the most time-honored Christmas traditions.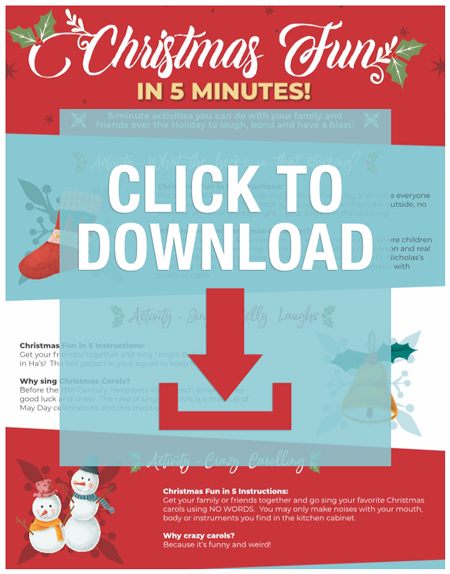 About CATHOLIC CENTRAL: You have questions about the Catholic faith and what it means to be Catholic. We have answers. Using a team of witty writers, appealing hosts, and even some learned theologians, we've created sharable, snackable videos that teach the timeless truths and deep history of the Church with humor and heart. Produced in the Family Theater Production studios on Sunset Boulevard in Hollywood, CATHOLIC CENTRAL entertains, enlightens and inspires.
Win It!
One lucky Theresa's Mixed Nuts reader is going to win an assortment of (4) classic game titles, chosen at random from our sponsors at CATHOLIC CENTRAL (games could include titles such as Monopoly, Sorry, Connect 4, UNO, Pictionary, Twister, Operation, Apples to Apples, Life, Battleship, Simon, and more).
The giveaway is open to U.S. residents, 13+ (No PO Boxes will be accepted) and will end on 12/27. Winner will have 24 hours to respond to winning email before a new winner is selected. Please enter on the giveaway widget below.
What's your favorite family holiday tradition?