Disclosure- I received the mentioned product courtesy of the sponsor for the the purpose of this review. All opinions are genuine, based on my experience with the product, and have not been influenced by promotional items.
I've always stressed the importance of good dental hygiene to my girls because poor oral hygiene can lead to so many other health issues. Did you know that the health of your mouth affects every part of the body? Good oral health can limit your exposure to heart disease, memory loss and even stroke. That's why I made sure to set a morning and evening mouth care routine with my girls from the time they could brush their teeth so it would just become second nature to them to care for their mouths every single day without giving it a second thought.
Brush and rinse with mouthwash twice a day, as well as flossing after every meal has helped them keep their teeth in tip top shape. My dentist always says, "I can do good work on your teeth, but nothing I put in your mouth will be as good as the original." We keep that advice in mind all the time because we certainly want our original teeth to stick around as long as possible!
While my kids have always been praised by our dentist for how well they care for their teeth, we actually have quite a few days dedicated to the dentist this summer. Aside from the normal cleanings they'll be receiving, Mariah will be getting her wisdom teeth removed, and after that, Leah will be getting braces put on. With all of the work that's going into their mouths this summer, I've been thinking more about our dental coverage and how a plan from Smile Health Dental Plans might be beneficial for us.
Smile Health Dental Plans offer an alternative to traditional dental insurance, which are an affordable and simple way to get your dental needs covered. Members pay an annual fee for the plan that suits their needs, and in return get savings of 20% or more on many preventative, restorative and cosmetic dental treatments all year long. Benefits are immediate, with no health restrictions, no waiting periods, no claims, and no maximums. You get up front pricing so you know exactly what you'll owe for your treatments without surprise bills later. Check out Smile Health Dental Plans to see the three different plans to help decide which one is right for you.
Check out this app that Smile Health Dental Plans that gives great tips on how you can maintain a healthy smile. Because a healthy smile = a healthy body!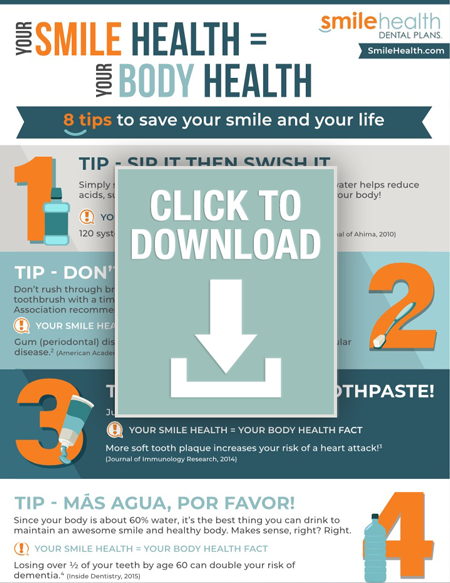 WIN IT!
One lucky Theresa's Mixed Nuts reader is going to win an amazing
Smile Health Dental Plans "Your Smile Health = Your Body Health" Care Kit
that includes:
1 - Oral B Vitality Electric Toothbrush
1 - Crest Pro-Health Toothpaste Travel Size
1 - Oral B Glide Floss
1 - Crest Pro-Health Multi-Protection Oral Rinse
1 - Smile Health = Body Health PDF pamphlet
The giveaway is open to residents of the U.S. (13+, no p.o. boxes accepted) and will run through 6/5/19. The winner will have 24 hours to respond to notification email before a new winner is selected. Please enter on the giveaway widget below.