This shop has been compensated by Collective Bias, Inc. and its advertiser. All opinions are mine alone. #SkinEssentials #CollectiveBias
As most of you know, our daughter Mariah left for college a few weeks ago. As parents, we were a little concerned with how she was going to adjust. She had never been away from home for more than a day or two at a time, and here we were getting ready to push her out of the nest and make her fend for herself for the next 10 months. Naturally we had a few concerns- "Is she going to find her way around campus quickly?" "Is she taking the right classes?" "Will she make friends easily?" But, since Jason and I have been prepping her for this moment for 18 years, we knew in the grand scheme of things that she'd be okay. We were lucky to get to tour the campus several times before shipping her off, so she was able to get a good feel of the place before settling in. By the time she left, she was really excited to start this new chapter in her life.
"What are you most looking forward to about college, Mariah?" When we ask her this, the first thing that she says is, "The clubs!" Her college has a huge variety of clubs the students can join, from Pizza Tasting Clubs, to Harry Potter Clubs, and even a Pet A Puppy Club. These are the three that she is most excited to participate in, not only because they sound totally fun, but because she'll be among other kids her own age who share similar interests with her. Of course, the primary goal of college is to learn, but socializing and interacting with your peers is a huge part of it as well. Mariah couldn't wait to meet new people, so starting college with with a fresh face gave her the confidence she needed to step out of her comfort zone and make new friends.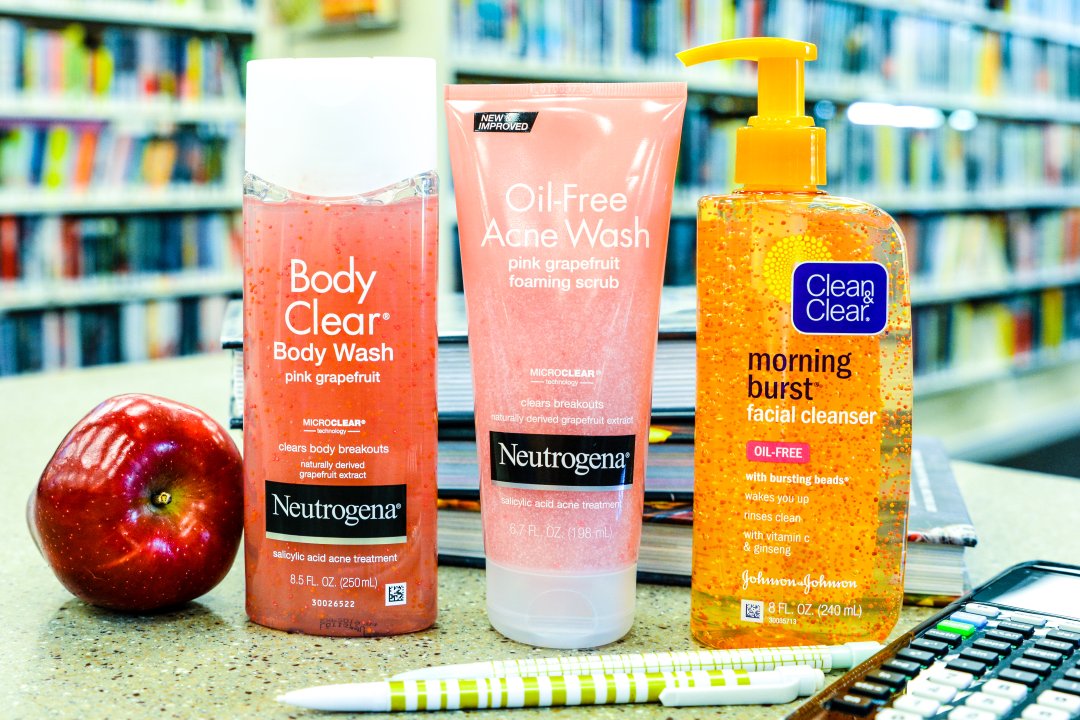 *Click on any of the above products to learn more*
After her first day on campus, she sent us this text, so it helped ease our concerns about fitting in:
In addition to the clubs, having a dorm room was something else that she was really looking forward to.
I'm a planner, so I started making lists last year of all the dorm room essentials Mariah was going to need to get started off on the right foot. I came up with this
printable dorm room checklist
to ensure we had everything we needed before we hit the road.
She loved getting to pick out her bedding and room decor, but she was even more excited that she was going to have her own toiletries that her sister couldn't come in and swipe. Putting together her shower caddy was something she couldn't wait to do, so we made a run to Target to pick up
Neutrogena
® and
Clean & Clear
® products to ensure she was walking out on campus with a fresh face every day.
Since Mariah wanted to make a good first impression, she immediately headed for the facial care section at Target to load up on
Neutrogena
® Oil-Free Acne Wash Pink Grapefruit Foaming Scrub,
Neutrogena
® Body Clear® Body Wash - Pink Grapefruit, and
Clean & Clear
® MORNING BURST® Facial Cleanser.
Mariah chose the Neutrogena® Oil-Free Acne Wash Pink Grapefruit Foaming Scrub because it contains maximum strength Salicyclic Acid acne-fighting medicine and the pink grapefruit helps to keep the skin from over drying while the exfoliators gently smooth away roughness.
The Neutrogena® Body Clear® Body Wash - Pink Grapefruit is an oil-free acne body wash that helps prevent body acne. The maximum strength Salicyclic Acid boosted by MicroClear® Technology treats body breakouts on the back, chest, and shoulders without over drying. Mariah loves the bubbling action of this body wash!
Clean & Clear® MORNING BURST® Facial Cleanser, a unique gel cleanser with Vitamin C, is a great way to get a morning fresh face. The citrus scent will awaken the senses while the BURSTING BEADS® burst with energy and vitamins, leaving skin fresh and ready to take on the day.
With the help of Neutrogena® and Clean & Clear®, Mariah feels fresh and confident every day. She's looking forward to putting her best face forward and making her freshman year of college a successful one.
Be sure to check out Target's Cartwheel for great offers on Neutrogena® cosmetics throughout August. Additionally, Target is offering these great promotions throughout August as well:
Buy 3
Neutrogena
® Skincare Products, Get a $5 Target Gift Card
Buy 1
Clean & Clear
® Product, Get One 25% Off
Save 20% on Neutrogena® cosmetics every weekend in August, Thursday-Sunday, on Cartwheel
What were some dorm room essentials you just couldn't live without during your college years?
This post is sponsored by CLEAN & CLEAR® and NEUTROGENA®. I only recommend products I use personally and believe my followers will also enjoy! Some of the products mentioned were provided by CLEAN & CLEAR® and NEUTROGENA® for this review.